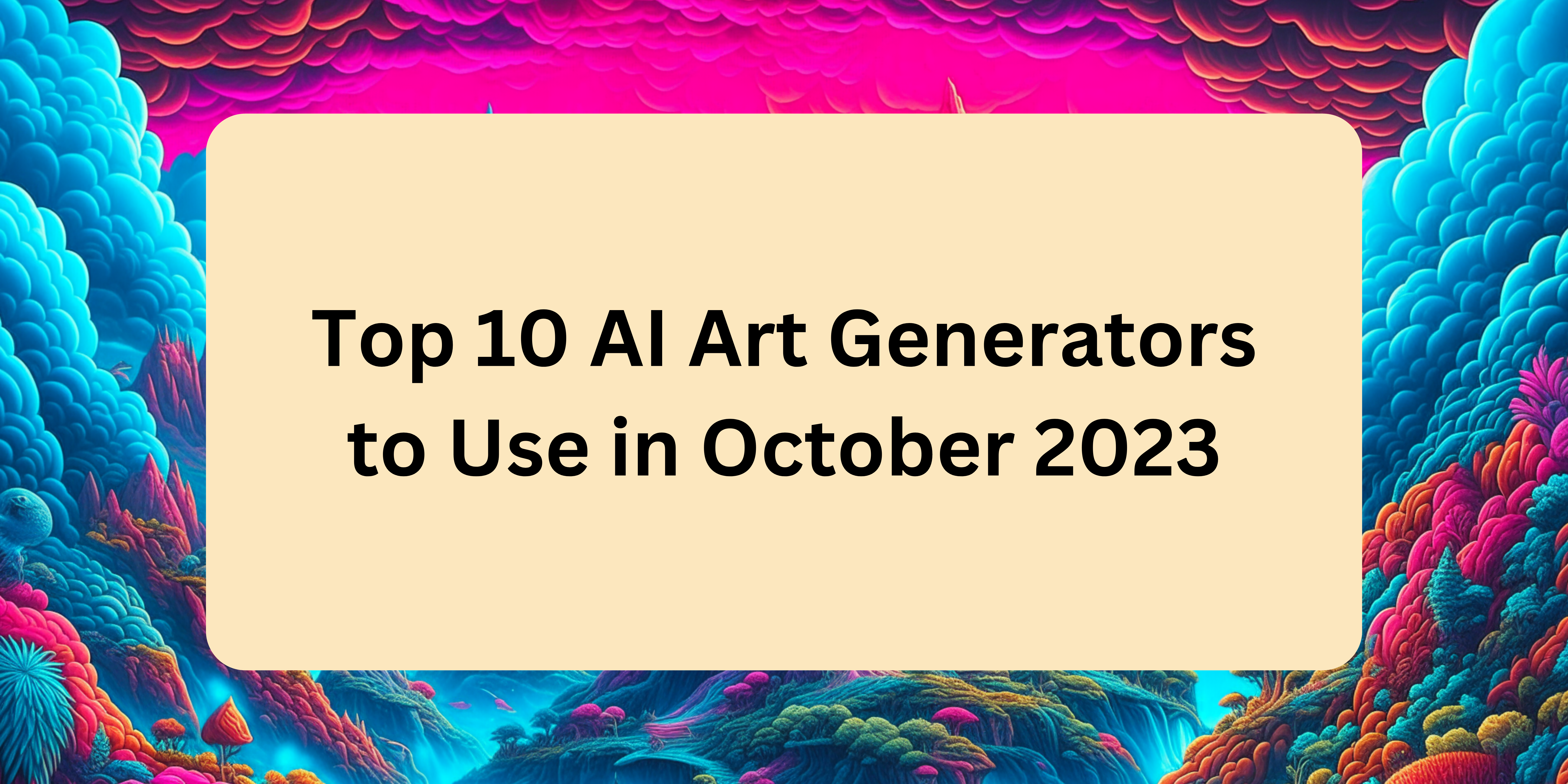 Top 10 AI Art Generators to Use in October 2023
AI art generators are taking creativity to new levels. Thanks to advances in deep learning, tools that create original images, art, and illustrations from text prompts are now widely accessible.
In this post, we'll compare the top 10 AI art platforms available today. Whether you're an artist, designer, or just AI-curious, these options make tapping into AI-generated visuals simple.
Unleash Your Creativity with AI Art
For creative professionals, AI art generators offer exciting new workflows. They can help you: get new ideas flowing, iterate concepts quickly, expand your style, and produce more content.
For AI art enthusiasts and AI art beginners, AI art generators can help you to create more AI art in different styles and use it as a therapy. It is fun and magical to watch our text or idea in our head come to live.
I will also share some examples of AI artworks that I or other users have created with each generator.
Here are the top 10 AI art generators on the web in October 2023:
1. DALL-E 3
DALL-E 3 represents a huge advance in AI art capabilities. It can translate nuanced requests into extremely detailed and accurate images. We do not need to learn prompting and able to create stunning images in it. One of the most important features, it comes with API support. The scope of what you can create is immense – from portraits to book covers, fashion concepts to product designs, and more.All the images created are available for personal and commercial use.
Key Features:
– Create photorealistic images and art.
– Able to generate text within the image.
– Control style, mood, backgrounds, and subjects via prompts
– DALL·E 3 is built natively on ChatGPT, which lets you use ChatGPT as a brainstorming partner and refiner of your prompts. Just ask ChatGPT what you want to see in anything from a simple sentence to a detailed paragraph
– It is now available in Bing.
Image made with DALL-E 3 from Open AI website
2. Midjourney
Midjourney's Discord integration makes AI art fast and social. Just type a prompt in your Discord chat to instantly generate images.
Key Features:
– Fast creation within Discord
– Constant feature rollouts
– Vibrant, stylized art style
With its gorgeous art and active community, Midjourney has quickly gained huge popularity for putting AI art creation at your fingertips.
Multiple pose lomography ladies with neon purple hair floating in a hexagon tesselation –v 5.2 –ar 3:4 made with Midjourney
3. Easy Peasy AI
Easy Peasy AI offers a convenient way to generate AI art directly through its website. Simply visit https://easy-peasy.ai/ and navigate to the "AI Images" section on the left sidebar. You can either input your own art prompt or utilize the AI Art Prompt provided by Easy Peasy AI, which is tailored for compatibility with Easy Peasy AI and other Stable Diffusion models.
Once you've entered your prompt, you can take advantage of the "Improve Prompt" feature located below the input field. There's a wide selection of 22 unique styles to choose from, including 4K, Mosaic, 3D render, Studio Photo, and Sticker styles, allowing you to customize your AI-generated art to your liking.
Key Features:
– Create AI art on the website
– Easy to use
– It comes with the "Improve Prompt" feature which is useful for AI art beginner
– High-quality image
– Wide selection of art styles
A fantastical landscape inspired by the intricate art of Dan Mumford, with vibrant colors and dynamic composition, featuring towering mountains and mystical creatures, captured with a tilt-shift lens to create a miniature effect made with Easy Peasy AI
4. NightCafe Studio
A popular generator that offers multiple methods of AI art generation, such as DALLE-2, Stable Diffusion beta, 0.9 and 1.0, VQGAN+CLIP, CLIP-Guided Diffusion and video. You can also browse and remix other users' creations. NightCafe Studio reward users with credit when you publish your creation, comment, and like other's creation.
Key Features:
– Multiple gorgeous art styles
– A vibrant and helpful community
– Available on the website and mobile phone app
– Save and share art
– Able to join the daily AI art challenge and create AI art challenge within the app.
Flat design of a lake with nature elements. minimalist color and design made with NightCafe Studio using Mecha preset with SD.
5. StarryAI
StarryAI is an AI art generator app that can create stunning artwork from text prompts. It uses advanced deep learning models to transform words into images, with different styles, photos, illustrations, or even your own styles. StarryAI is a fun and easy way to unleash your creativity and express yourself through art. Their latest SDXL fine-tuned model, Hydra is an versatile model that can generate hyper-realistic photo and digital art.
Key Features:
– Free daily credits
– Build in prompt builder
– Create AI art on mobile
A portrait of a lady with pastel purple wavy hair with sprinkling colors using Hydra model in Starry AI.
6. Lexica
Lexica generates infinite AI art from text prompts. You can like pieces to refine the output over time Lexica Art is an online platform that allows you to generate photorealistic images and AI images from words or phrases. They just launched their latest model Aperture v3.5 which can be better at following prompts.
Key Features:
– Discover AI art and prompts on their homepage
– Constantly updated image feed for inspiration
– Prompt and art style suggestions in the prompt input text box.
Surreal dream of a pyramid, purple vibe, touch of silver, chill step bliss made with Lexica Art.
7. Stable Diffusion SDXL 1.0
Stable Diffusion XL is an evolution of Stable Diffusion focused on hyperrealistic AI art. SDXL 1.0 is a state-of-the-art text-to-image generation model developed by Stability AI. It uses a novel technique called Stable Diffusion to create high-quality and realistic images from text prompts, with different styles, photos, illustrations, or even user-defined styles. SDXL 1.0 is the best open model for image generation, according to user preference tests.
Key Features:
– Cutting-edge realism
– Built off Stable Diffusion
– Able to work with different LoRAs
– Free open-source platform.
Unknown cute creature, purple vibe, detailed matte painting, deep color, fantastical, intricate detail, fantasy concept art, 8k resolution trending on Artstation Unreal Engine 5 made with SDXL 1.0
8. Ideogram
Ideogram AI is a new and innovative tool that can generate images based on text input. It can also integrate text elements into the images, creating logos, posters, and other designs. Ideogram AI is free to use at the moment.
Key Features:
– Create amazing logo designs
– Able to generate text within the AI images
– All AI images are displayed on the webpage with prompts
– Easy to use with simple prompting skill required
A fluffy cute floating items floating in the background with text," Have a great day" and AI word pastel purple with a light touch of magenta, 4k made with Ideogram
9. Leonardo AI
Leonardo AI is an innovative and creative AI image generator that specializes in producing game content such as textures, objects, and concept graphics. It is also capable of creating stunning image assets for various other projects, such as graphic design, fashion, marketing, advertising, product photography, architecture, interior design, and more.
Key Features:
– AI Canvas
– Texture Generation
– Alchemy pipeline
– Prompt builder and prompt magic features to enhance AI art prompts.
Detailed illustration of a print of a colorful peacock, pastel flowers splash, light blue, white and pink pastel colors,cute, fantasy art made with RPG 4.0 in Leonardo AI
10. Playground AI
Playground AI is an online AI image creator that allows you to create and edit images like a pro without being one. You can use it to create art, social media posts, presentations, posters, videos, logos, and more. You can also combine real and synthetic images to create stunning works of art and photorealistic images bound only by your imagination. Playground v1, SD 1.5, SD 2.1, and SDXL 1.0 are available in Playground AI to be used with different models.
– Image Inpainting
– Remove background
– Image to image
– Image editing tools
A rainbow color lizard made with Macro Realism in Playground AI
So there you have it! The top 10 AI art generators of October 2023 have been revealed. From mind-bending abstract creations to stunningly realistic portraits, these AI-powered tools are taking the art world by storm. Whether you're an aspiring artist looking for inspiration or just someone curious about the endless possibilities of artificial intelligence, these generators are definitely worth checking out. So, grab your virtual paintbrush and dive into the world of AI art. Who knows, you might just discover your next masterpiece!
Hopefully, this overview gives you a great starting point to begin exploring AI art generators. Let us know if you have any other questions! We'd love to hear what tools inspire you.
This post is made with the help of Easy Peasy AI.